_____________________________​
​
CHARLES TYRWHITT & THE PRINCE'S TRUST
A PARTNERSHIP OF CONFIDENCE
​
At Charles Tyrwhitt, "work" doesn't just mean helping men to dress well – it means working hard to help others, particularly those less fortunate than ourselves.
Our pioneering partnership with youth charity The Prince's Trust, is not about writing a cheque each year. It is central to our philosophy and our modus operandi, that we contribute our time and expertise, to help disadvantaged young people reach their full potential.
Since our relationship began in 2017, we're proud to have fundraised over £370,000 for The Prince's Trust. From baking to biking, pub quizzing to traversing snow-capped mountains, our fundraising efforts have involved hundreds of Tyrwhitteers across the business. Even founder Nick Wheeler squeezed his stumpy little legs into lycra and pedaled 968 miles from Land's End to John O'Groats in 9 days, raising £111K along the way.
​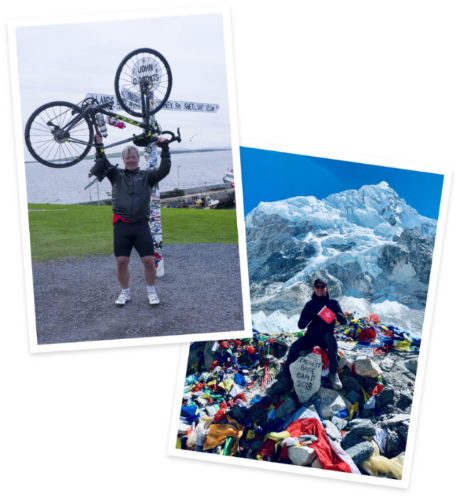 ​
During the pandemic, things have been tough for us, but much tougher for those young people without jobs and homes. We were delighted to create a range of Charles Tyrwhitt face masks, donating all profits - £75,000 - to The Trust. It's campaigns like this – the ones that bring Tyrwhitteers and customers together - that make us especially proud.
But it's not just about fundraising. We also contribute our time to help young people get ahead. We run sessions in CV writing, interview training, and career mentoring. We host WOW (World of Work) tours at our London Bridge office and our distribution and contact centre in Milton Keynes. We support those young people most at risk of failing their GCSEs, to inspire them and to share
practical skills to boost their confidence and self-belief. It takes so little to get them back on a path to success.
Every young person should have the chance to achieve their potential.
​

​
ABOUT THE PRINCE'S TRUST
​
Youth charity The Prince's Trust helps young people to develop the confidence and skills they need to realise their ambitions, so that they can live, learn and earn.
Founded by The Prince of Wales in 1976, the charity supports 11 to 30 year-olds who are unemployed, struggling at school and at risk of exclusion.
Many of the young people helped by The Trust are in or leaving care, facing issues such as homelessness, mental health problems, or have been in trouble
with the law.
The programmes offered by the charity give vulnerable young people the practical and financial support needed to stabilise their lives, helping develop self-esteem and skills for work. Three in four young people supported by The Prince's Trust move into work, education or training.
The Trust has helped over 950,000 young people to date and supports over 100 more each day.
Further information about The Prince's Trust is available at princes-trust.org.uk or on 0800 842 842.