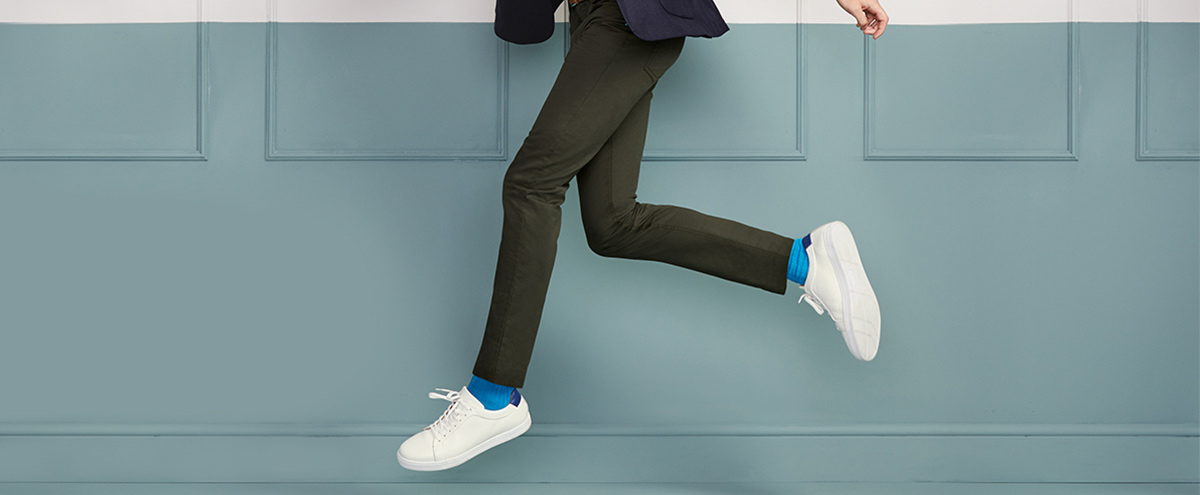 ​
BENEFITS AND DEVELOPMENT
​
​Dosh, dough, the bacon, the bread - call it what you wish; it's the reason many of us go to work and Charles Tyrwhitt (CT) knows that salary is important.
Our compensation is competitive and we constantly review the market to keep it that way. We know it takes more than money to attract and retain the best in the business so we offer much more.
​

The first is that you'll find CT is a genuinely great place to work with an inclusive culture that welcomes everyone. We encourage every Tyrwhitteer to be themselves and have a vibrant D&I group driving action across CT. To back this up we've signed up with a company called Inclusive Employers to support us in making CT the most inclusive and diverse place it can be.

Every Tyrwhitteer enjoys generous holiday allowance, a suite of health and wellbeing benefits (including optional private medical plans), pension, paid parental and sick leave, employee discounts with various retailers, childcare vouchers, long service awards and great bonus potential.​

When you join CT you will be invited to sign up to The LINK – this is our internal communications and benefits portal. Here you will find daily news, leadership vlogs, all the information you need about CT and most fantastically discounts and savings from 1000s of retailers, entertainment venues and utilities companies. You can save on pretty much anything you could want to buy! There's also a 50% discount on CT clothing and 30% off at The White Company as well - you're welcome!

We care about the things you care about so we'll give you an extra day off for your Wedding Day and one paid day per year to volunteer for a good cause. We even buy you a birthday cake each year and if you're lucky Nick (our founder) will send you a hand written card - true!!

Additionally we know you are serious about your career and we want you to grow and develop as much as you do. We have talented line managers who will support and coach you. Plus, there are a host of learning and training opportunities to suit everyone whatever your future aspirations – in the past 3 years we've supported over 30 colleagues onto apprenticeships programmes across all areas of the business

We also take colleague Wellbeing seriously and give all colleagues access to a Wellbeing hub online which contains lots of useful information to support your
physical, mental and financialWellbeing. We also have trained Mental Health First Aiders across the business and partner with the best external providers
to give you access to support when you need it.
​
Sounds marvellous, doesn't it?
Well, there's more, click the locations below to find out about the additional, location specific benefits we offer.
​
____________________________________________________________________________________________________
​
LONDON HEAD OFFICE

​

Having come from humble beginnings (a damp, leaky warehouse in Shepherd's Bush), we are over the moon with our new, stylish London Bridge location. Having the opportunity to take lunch on the Thames each day is a benefit in itself. Not to mention how easy it is to travel here. London Bridge Train and Tube Stations are a mere hop, skip and jump away.

As well as all the core benefits, Head Office colleagues also get the following:

• HQ dress code is business casual Monday to Thursday and casual on a Friday (when we get to finish a little earlier too!).

• We recognise that a good work-life balance is super important in order for you to be at your best. Most Head Office roles benefit from hybrid working, which allows you to split your time between being in the office and working remotely.
We ask that colleagues are in the office a minimum of 3 days a week, as it's important we have that time together to connect, collaborate and learn from each other.

• Tyrwhitteers in Head Office roles are all eligible for annual bonuses which are calculated based on business performance. Team work makes the dream work – and fills the pockets!

• We have a great cycle to work scheme, relocation packages to support international career development (we've had a number of colleagues move to our US office) and we offer season ticket loans to those based in HQ

• Every Wednesday we receive a huge delivery of fresh fruit for you to help yourself too and once a month we host an "all company" CT Briefing and Thirsty Thursday event to which you will always be invited (bottoms up)

• At HQ we are serious about having fun. Our Christmas and summer parties are the stuff of legend and our CT Social Team ensure there is always something exciting to get involved in

• When you join us we will gift you a London Bridge card which you can use to get discounts in local restaurants and attractions. For you fitness fans, Tyrwhitteers a get discount at the rather posh gym under our HQ building

​

UK RETAIL

​

Our stores showcase the Tyrwhitt Spirit and we're proud of the product we sell, so we want our colleagues to showcase this to our Customers, which means if you join us in a retail role you will receive a generous uniform allowance to ensure you're looking spick and span

Colleagues who identify as male will be expected to wear CT product, however we're happy to let any colleague wear our product should they wish to. For those who don't identify as male and won't be wearing CT product, you will be given an allowance to spend on appropriate clothing for you and this allowance will be based on the number of hours you work

As well as all the core benefits, UK Retail colleagues also get the following:

• We believe in teamwork and we reward it too! Valuable bonuses are paid quarterly when your store hits target. Team work makes the dream work – and fills the pockets too!

• We will help you get to work too! We have a great cycle to work scheme, relocation packages to support career development and we offer season ticket loans to those based in London stores

• We are serious about having fun at work. Each store has a fun fund to ensure parties, treats, social activities and team building events happen regularly

• Store opening hours vary depending on location, but we have part and full time roles in most places so you can find a shift pattern to suit you

• The Tyrwhitt Academy will take care of your professional development. Our training supports you with product knowledge, customer service and other training needs. We often share exclusive head office career progression openings with our retail teams; we like to grow our talent. We also have a number of apprenticeship level qualifications open to store colleagues that you can work through whilst still earning your full wage, so let us know if this is something you'd be interested in

CONTACT CENTRES

​

Whether you're a Customer Services Representative (CSR) based at our Milton Keynes contact centre or a CSR
homeworker, you will receive excellent perks and benefits. As a CSR you can earn extra pounds with every call you take as we have bonus payments linked to your performance – so the better you do the more you can earn.

As well as all the core benefits, CSR colleagues also get the following:

•Access to a great cycle to work scheme

•Our Contact Centre is open 24 hours a day, 7 days a week. We have part and full time roles - so you can find a work pattern to suit you.

•CT's Contact Centre team are serious about having fun. Our Christmas and summer parties are the stuff of legend and we dream up plenty of other events to keep us high-spirited in the meantime.

There are multiple levels of progression within our Contact Centres and we have a dedicated team of trainers to support you as you build your career with us.

DISTRIBUTION CENTRE

​

Working at our state of the art Warehouse and Distribution Centre (DC) in Milton Keynes has perks aplenty. As a colleague in the DC you can earn extra pounds by hitting key targets linked to your performance – so the better you do the more you can earn.

As well as all the core benefits, our DC colleagues also get the following:

• We love making it as fun as possible at the DC - ice-cream days, lunchtime football games and other pop-up activities are a regular occurrence on site

•Our Christmas and summer parties are pretty legendary (even if we do say so ourselves) and the Milton Keynes Social Events team make sure there is always something exciting to get involved in

•The Distribution Centre is open 7am to 11pm, 7 days a week, with part and full time role regularly available across this window - so you should be able find a work pattern to suit you!

•We offer language lessons to anyone working in our Distribution Centre who would like to improve their English

•There are multiple levels of progression for our Milton Keynes colleagues and we will help you gain the skills you need to build your career with us – in the last year we've had X colleagues start apprenticeships with us

USA RETAIL & NEW YORK HEAD OFFICE​

​

We have been in the US since 2002, and we have become pretty astute as to what our colleagues here in the US need, to feel valued for the hard work put in. Our range of benefits varies between part time colleagues, full time colleagues and management colleagues, eligibility is dependant upon your working pattern and role here at CT: US

Some of the great CORE benefits we offer are below:

•CT pays 75% towards employee's medical care and 50% towards dental care (for employees working 30+ hours)

•401k - CT will match up to 5% of an employee's salary contribution (employees over 21 years old)

•EAP (Employee Assistance Program) offered through New Directions and Talkspace, is free to all US employees, their household members and family offering in person, telephone and text therapy for a range of life events

•We partner with "Optum Bank" which allow us to offer our employees transport and parking benefits with up to 40% savings. (usually for employees working 20+ hours)

•We also partner with Optum Bank for our employee FSA

•Full time employees are offered short term disability insurance and life insurance

•Tax relief for Vision and Pet Insurance

•White Company discount - our generous friends over at the White Company extend their 30% discount offer to our US colleagues also

•The LINK - we have an online portal with a variety of saving opportunities at well known retailers

Some of the great extra RETAIL benefits we offer are below:

•Bonus potential is paid monthly and is applicable to all roles in retail

•Frequent incentives will see rewards such as gift vouchers, extra vacation and gifts

Retail Management:

•Time off is on a PTO basis and increases based on years of service

Some of the great extra US OFFICE benefits we offer are below:

•CT office colleagues are enrolled in a bonus structure based on US performance and global profit

•Summer Fridays, an early finish for all office employees